When printing paper calendars for one for more scheduled users, have their name printed at the top of the calendar.
Hi Dan
The screenshot below is via a Scheduleable User Group showing Herb and Hanks view for a month. Their names display at the top of the month because the screen needs to identify for you which is for which user.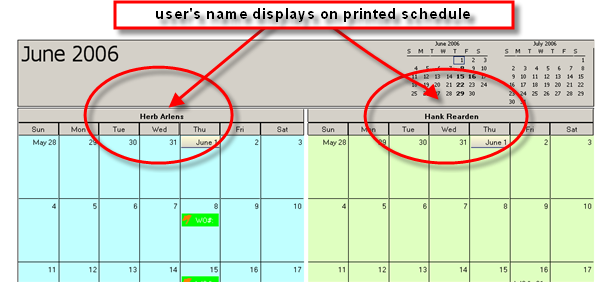 But if only one user is selected in a Schedulable User Group, or if viewing "yourself" (who you are logged in as)- the screen doesn't bother displaying the name of the user at the top because there is not a need to differentiate because only one user's schedule is being displayed.
Screenshot below is of Eva's month printout - no name because it is for one user.
The Print function of the Schedule Screen displays like a screenshot of what is showing - if two or more users in the Schedulable User Group, than the names will display in a print job because the names also display in the actual Schedule Screen. But if only one user displaying, the name will not display in the print job because the name doesn't display in the actual Schedule Screen.
We will look in to adding the ability to have the username display even if only one schedulable user displaying. Thank you for the suggestion.
Hi again Dan
With the latest Schedule screen components released with AyaNova v3.3.3.0, a single user view now does show thatuser's name at the top - so when you print, that username will also print.
Do refer to the Known Issues & Updates section of this forum for the steps to update to the latest version of AyaNova.